Resourcing Staff
Seniors, Singles, Youth, FOCUS
Debbie Fero / Seniors, Singles Coordinator | email
Debbie is responsible for planning, coordinating, and overseeing events and activities for adults, including singles, seniors, and homeschooling parents. Her days are filled with phone calls, emails, and face-to face communication, all to draw adults into having a personal encounter with Jesus. Debbie's heart is for Christ, and for the people He puts in her path.
Prior to answering God's call to full-time vocational ministry, Debbie spent 19 years working in the high-stress newspaper industry. She fine tuned her administrative and organizational skills as Circulation Director for the Daily Review in Towanda, PA. As part of the management team there, Debbie played a big part in corporate strategic planning and customer service training.
When her marriage of 21 years ended in divorce, Debbie found herself searching for "someone" to fill the hole in her heart. Her search ended while attending her first Family Life event, a SALSA (singles) conference, where she realized Jesus was drawing her into a personal relationship.
Over the next few years, Debbie discovered how to use her God-given gifts and even her hurts to minister to women and singles. As her passion for ministry grew, God made it clear that He was calling her to be a part of the Family Life team. After a year of raising personal support, Debbie took her leap of faith, left her job at the newspaper, and joined Family Life.
Debbie enjoys spending time with her immediate family. This includes her son, Dan; daughter, Maggi; son-in-law, Otto; and her grandson, Antonio. She also likes spending time with friends, watching movies, and doing an occasional jigsaw puzzle.
Katie Bernier / Youth Coordinator | email
Katie works primarily with Youth Action at Family Life, coordinating events, creating marketing materials, and networking with youth leaders across the region.
Katie's favorite part of the job is working one-on-one with young adults, whether it's counseling them or just hanging out. Katie also works part-time for Family Life's radio ministry as a radio traffic programmer, managing the sponsorship announcements for FLN.
Katie came to Family Life in 2007 from the Binghamton, NY area. Before that she had her own business cleaning houses. She also worked for Joann Fabric's for several years. From a young age Katie knew she wanted to serve Jesus, but had no idea how or where. After volunteering as a counselor for Family Life, Katie felt God was calling there. At first rejecting the Call, Katie told God she'd serve anywhere but in youth ministry. But after submitting to God's Will, Katie fell in love with her job and wouldn't trade it for the world!
Raised in a large Christian Family, Katie came to Christ at a young age. Around the time she was 16, Katie realized that she couldn't just rely on her family's faith anymore, but had to start her own personal walk with God. Katie loves sharing her testimony with young adults.
Katie is a fun loving, personable woman with a passion for Christ. She's the oldest of 12 children and has lived a real "Cheaper by the Dozen" life. Katie loves reading, sewing, volleyball, and hanging out with friends and family. She's also in school full-time pursuing a degree in Human Services.
George Sweatt / Youth Coordinator | email
God has gifted and blessed George with multiple talents and he uses them all at Family Life! George works in our radio and youth departments. His favorite part of both jobs is hearing about the change God causes in people lives - a big reward of ministry work.
George is a part of the Saturday morning Kids Korner – cutting, mixing, and adding sound effects to the audio he records with the gang each week.
His love for kids and passion for Christ caused George to pursue a degree in youth ministry at Criswell College in Dallas, TX. After serving as youth pastor for eight years and working for a non-profit radio station for two years, George began praying for his next step in ministry.
It wasn't long before God opened the door for an interview with Family Life. After visiting the ministry and spending several sleepless nights in prayer, George made the trek from Texas to join the Family Life team in June of 2008.
About a year into his work with Family Life, George expressed interest in working for Family Life's youth department. Who were we to argue? So along with his Performing Arts responsibilities, George joins Katie Bernier in Youth Action to help plan and coordinate events for teens and young adults.
While George may seem mild-mannered, you'll be surprised to know he's tested the limits of extreme sports. Bull-riding, skydiving, base-jumping, and bungee jumping are a few of his much loved, and otherwise crazy, things to do. Being raised in Texas, where snow is a rare commodity, George is looking forward to some good NY skiing when the flakes begin to fall.
Gary Short / FOCUS Director, Counselor (LCSW) | email
In addition to overseeing the FOCUS department, Gary counsels individual, couples, and families in the Bath, Corning, and Elmira areas of Upstate New York. Gary loves every aspect of being a counselor and daily thanks God for the great privilege of helping those that seek Godly wisdom for their concerns.
Gary was led to Family Life in 1976, back when the ministry was operating as Area Youth for Christ. He worked as a caseworker for a boy's home called New Life Homes-Snell Farms, a former division of Family Life. In 1982, Gary sensed God calling him to develop a new counseling department – FOCUS! Although excited about the opportunity, Gary had a feeling that once the department was underway, he would leave FOCUS in the good hands of another counselor to follow another God-led path.
Sure enough, Gary worked hard to help establish FOCUS, and then left the department to spend the next 20 years as a school social worker at the Greater Southern Tier BOCES. Gary was called back to FOCUS part-time in 2003, and after five years, was asked to serve as a director and counselor of the very department he helped to establish over two decades ago. God moves in beautiful circles!
Gary and his wife, Barb, have three sons: Jason, Dean, and Darin. Gary also has a Master's degree in Social Work from Syracuse University and is a doctoral candidate at Trinity College. On a more personal note, Gary has a passion for classic cars and trucks. His yearly trips to the Carlisle Show – a major auto event in PA – make him a pretty serious enthusiast!
Barb Short / FOCUS Counselor (LCSW-R) | email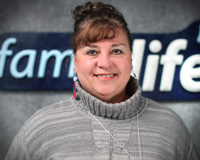 Barb counsels individuals, couples, families and small groups with difficult life issues such as anxiety, depression, domestic violence, and sexual abuse. She is blessed by the Lord to help hurting people in any way she can.

After working for 18 years at SteubenCountyCommunityMentalHealthCenter, Barb joined the FOCUS staff in September 2010. Her husband, Gary, is the director, and is happy to add his wife's skills to the team! Along with her counseling career, Barb also is a registered nurse and has worked in number of different nursing specialties of over 20 years.

Barb and Gary have three sons: Jason, Dean, and Darin, and two grandsons: Hudson and Levi. She has a Master's Degree in social work from Syracuse University and has advanced training and certification in EMDR, a treatment technique for handling and processing trauma. As a registered nurse, Barb finds her medical background to be a valuable asset in the counseling field.
In her spare time Barb enjoys "playing in the dirt" - a euphemism for tending her large perennial garden! She and Gary also have had the privilege of traveling overseas to provide missionaries with encouragement and counseling services as they serve the Lord. The work is strenuous but very rewarding, and they look forward to more opportunities like these.