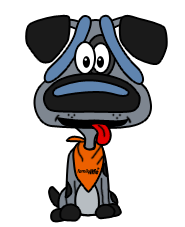 Kids Corner: Nehemiah
08.19.17 | Matt Jackson
Sometimes God asks us to do things, but when we obey him it doesn't always go well. This week we hear the story about a guy who God gave a special mission,and he met some pretty big challenges.
Flin Birthday Club
Celebrate your child's birthday with a special birthday card from Flin, Family Life's furry mascot pup! The card includes a certificate good for a McDonald's Happy Meal and contest entry into the weekly birthday prize pack given away Friday night, 7-8pm, during The Family Hour.
Win a Flin Plush Toy and an assortment of other great gifts. The contest is open to kids turning 12-years-old and younger. Click to sign-up your child!
August Coloring Page
You've met Flin, right? He's our Family Life mascot. Well, he wants to give you a chance to win a Flin t-shirt, plus a flying disc for kids 7-12 and Precious Moments Little Book of Bible Stories for kids 6 and under. All you have to do is download and color this month's coloring page.
To be considered, entries must be received by 5:00 pm on Thursday, August 31.
View the Family Life contest rules.
Family Life is located at 7634 Campbell Creek Road in Bath, and our mailing address is P.O. Box 506, Bath, NY 14810. One winner will be chosen from each of these four age groups: 4 years and under, 5-6 years, 7-9 years, and 10-12 years.

Done coloring this month's page? Download previous coloring pages!