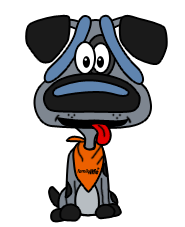 Kids Corner: Fasting
02.25.17 | Matt Jackson
"Going without" usually is a bad thing, but this week Mr. Jacobs and the kids talk about how giving some things up for a while can be good.
Flin Birthday Club
Celebrate your child's birthday with a special birthday card from Flin, Family Life's furry mascot pup! The card includes a certificate good for a McDonald's Happy Meal and contest entry into the weekly birthday prize pack given away Friday night, 7-8pm, during The Family Hour.
Win a Flin Plush Toy and an assortment of other great gifts. The contest is open to kids turning 12-years-old and younger. Click to sign-up your child!
February Coloring Page
You've met Flin, right? He's our Family Life mascot. Well, he wants to give you a chance to win a Flin t-shirt and a copy of the book, Same Kind of Different As Me for Kids. All you have to do is download and color this month's coloring page.
Entries must be received by 5:00pm on Tuesday, February 28. View the Family Life contest rules.
Family Life is located at 7634 Campbell Creek Road in Bath, and our mailing address is P.O. Box 506, Bath, NY 14810. One winner will be chosen from each of these four age groups: 4 years and under, 5-6 years, 7-9 years, and 10-12 years.