Inside Out 50: Things to Know Before Marriage
02.14.11 | Kurt Goff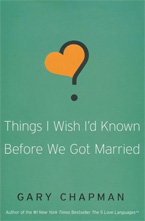 If I had known this before we got married...
I would have been a lot better off.
I would have saved myself so much heartache and grief.
I might not have made the decision I did.
Many married couples have said these kinds of things, and God helps and redeems and never leaves us alone to face challenges in our marriages. But maybe you or someone you know is in a dating relationship and you think this could be the one.
God, is this the person you have for me? How can I know?
A close walk with Christ is so very important. He can give you wisdom through the Bible, other believers, parents, and good Christian books.
You may know Gary Chapman for his book that continues to be a bestseller: The 5 Love Languages. That's a favorite of mine and is so helpful if you're already married and need to work on yourself and your marriage. But in my conversations over the years with Gary, I've often wanted to get specific and dive into principles dating couples can use to make a wise and godly decision about marriage.
Finally... I got my chance!
Gary's new book is Things I Wish I'd Known Before We Got Married. The podcast hits all the highlights of the book as well as a bonus: encouragement for those who are already married and dealing with issues. Practical, biblical, and at times humorous.
That's Dr. Gary Chapman.