Inside Out 49: Soar
02.11.11 | Kurt Goff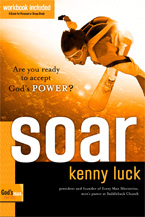 Soaring is flying high on borrowed power. The air currents carry you. The wind rushes around you.
Acts 2:2,4 (ESV)
"And suddenly there came from heaven a sound like a mighty rushing wind, and it filled the entire house where they were sitting….And they were all filled with the Holy Spirit…"
Isn't it interesting that the Holy Spirit is often compared to the wind?
John 3:8 (ESV)
"The wind blows where it wishes, and you hear its sound, but you do not know where it comes from or where it goes. So it is with everyone who is born of the Spirit."
It's hard to live a sold out life for Christ in this world. We can't do it on our own. We need a power outside of ourselves.
The cool thing?
God not only gives us power He gives us a person: The Holy Spirit. Fully God because God is three in one: Father, Son, and Holy Spirit. And yet the Holy Spirit is often the forgotten God. Without Him we couldn't even come to believe in Christ as our Savior. He's the comforter, the enabler, and the GPS for our souls.
But for many, the gift of the Holy Spirit remains misunderstood, under-appreciated, and under-utilized. We need to nurture a relationship with Him. Pursue Him as He pursues us. Allow Him to take control of our lives. Really believe the truth about Him.
He can take us higher than we can ever go by ourselves.
Isaiah 55:8-9 (ESV)
"For my thoughts are not your thoughts, neither are your ways my ways, declares the Lord. For as the heavens are higher than the earth, so are my ways higher than your ways and my thoughts than your thoughts."
The Bible says we can:
Lie to the Holy Spirit
Grieve Him
Quench Him
So what's this really all about?
Kenny Luck is a pastor from Saddleback Church in Southern California. His passion is men's ministry, but when I read his latest book in the Every Man Series, Soar, I realized this is great material for all of us as followers of Christ. I called Kenny up and we had a nice long conversation about what it really means to practically live in the power of the Holy Spirit.
Isn't it about time we started soaring in the power of God…for His glory?
Acts 1:8 (ESV)
"But you will receive power when the Holy Spirit has come upon you, and you will be my witnesses in Jerusalem and in all Judea and Samaria, and to the end of the earth."