Inside Out 35: Wrestling With God
12.27.10 | Kurt Goff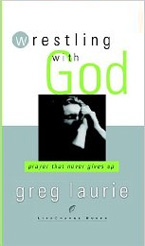 Prayer isn't overcoming God's reluctance.
It's grabbing onto His willingness.
John 16:23 (ESV)
"....Truly, truly, I say to you, whatever you ask of the Father in my name, he will give it to you."
But there's an important part of this precious promise from Jesus that many people forget.
John clues us in:
1 John 5:14 (ESV)
" And this is the confidence that we have toward him, that if we ask anything according to his will he hears us."
According to His will.
That's not a cop out if Jesus doesn't come through.
It's surrendering to His sovereign plan for our lives.
It takes faith.
Even our Savior played this truth out as he wrestled with His Father in prayer the night before the crucifixion:
Matthew 26:39 (ESV)
"And going a little farther he fell on his face and prayed, saying, "My Father, if it be possible, let this cup pass from me; nevertheless, not as I will, but as you will."
Have you ever fought the battle between your plan and God's?
Have you ever walked through the quiet places of life where the voice of God is on mute?
Have you ever wondered what the difference is between persistence and presumption in prayer?
Do you have a hard time believing God will truly give you what's best?
Do you struggle with prayer in general? You know .. when it's a "have to" instead of a "get to"?
Pastor/author/evangelist Greg Laurie helps us answer these questions and many more straight from the pages of the Bible.
Wrestling with God is both biblical and practical.
Despite what many people think, these two concepts are close traveling companions.
Take a listen to see what I mean.
1 Thessalonians 5:16-17 (ESV)
" Rejoice always, pray without ceasing…"