Inside Out 24: The Trouble With Anger
11.29.10 | Kurt Goff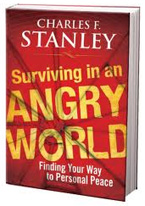 Anger is an equal opportunity destroyer.
But we're so good at it.
And we pay the price.
Hosea 8:7 (ESV)
"For they sow the wind, and they shall reap the whirlwind.."
Left unchecked it can put a chokehold on our relationships with other people and, even more sobering, our relationship with God.
Maybe you've had questions like these:
Is there such a thing as good anger?
What does the Bible say about anger?
How do I get control of my temper?
How do I deal with an angry spouse/father/mother/child?
What does forgiveness or the lack of it have to do with anger?
Isn't there a fine line between forgiveness and enabling someone's anger?
All good questions!
So let's get some answers.
I recently spent some time with pastor/author Dr. Charles Stanley from In Touch Ministries.
He had some very interesting, and at times autobiographical things to say about Surviving in an Angry World.