04 Terese Talk: Jennie Allen
03.06.20 | Terese Main
You've likely heard this scripture: "Casting down imaginations, and every high thing that exalteth itself against the knowledge of God, and bringing into captivity every thought to the obedience of Christ;" It's from 2 Corinthians 10:5. But do you know how to do that? Jennie Allen is a Christian teacher and author who has written a book called "Get Out of Your Head." It's designed to help you identify your thoughts and line them up with God's way of living. Jennie will also be speaking in Rochester, NY at an event at Browncroft Community Church on March 29th. Find out more here. Buy Jennie's book here.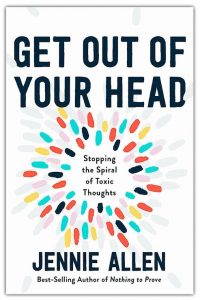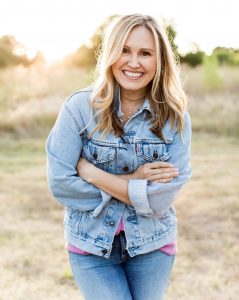 Homemade Hand Sanitizer
Have you seen the bare store shelves for things like toilet paper and hand sanitizer? People are stocking up, in preparation for a potential Coronavirus outbreak. Did you know you can make your own hand sanitizer!
2/3 cup Isopropyl Alcohol
1/3 cup Aloe Vera Gel
2-3 drops of essential oil (optional, for fragrance)
Mix and pour into a pump bottle or squeeze tube.
For God hath not given us the spirit of fear; but of power, and of love, and of a sound mind. 2 Timothy 1:7
Peanut Butter Mousse Cups
(Sugar-free and Grain-free, but NOT Flavor-free)
For the cookie crumbles (make these first, so they can cool)
7 TBSP. butter, melted
2 cups almond flour
3 TBSP. cocoa powder
1/3 cup monk fruit sweetener
Mix, spread onto a cookie sheet and bake at 350 for 10 minutes, or until dry. Cool, then crumble.

For the filling
8 ounces Marscapone cheese, room temperature
2/3 cup sugar free creamy peanut butter, room temperature
1 3/4 cup heavy whipping cream
1/2 tsp. vanilla
1/4 tsp. xantham gum
1/2 cup monk fruit sweetener
Combine Marscapone and peanut butter. Whip cream and remaining ingredients until still peaks form. fold peanut butter mixture into whipped cream mixture. Spoon mousse into single serve cups and chill. Top with crumbled cookie.
Museum of the Bible
It's amazing how many common phrases originated in the Bible! Here's one of the exhibits from Museum of the Bible in Washington, DC. The next time you hear someone use one of these phrases, it's an opportunity to start a conversation about God's Word!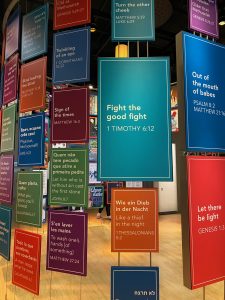 If you enjoy this podcast, consider supporting the ministry of Family Life at www.fln.org/giving. If you have feedback on this podcast, please email me at Thanks for listening! Terese Main is a wife, mom and social media addict. Above all, she loves Jesus. She co-hosts Family Life Mornings, which can be heard on radio stations across New York and Pennsylvania, and at www.fln.org. She is a native of the Finger Lakes Region and a graduate of Ithaca College. It's her heart's desire to encourage others to live their lives fully in God's blessing.