Welcome to the New Inside Out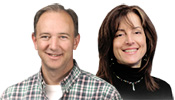 Because of the growing interest in Inside Out, we have decided to expand the short version (which ran in morning and afternoon drive) into a full thirty-minute daily program that will highlight conversations with authors, speakers, newsmakers and everyday people who are making a difference in the culture because of their faith. Every weekday Kurt or Martha joins Bob Price to welcome a different guest and discuss an interesting topic. The new Inside Out airs at 12:30 pm EST.
Be sure to join the new Inside Out Facebook Page and join in on the discussion.
Tweet
ABOUT THIS PODCAST
Inside Out airs Wednesdays at 12:20pm EST during the Family Life Noon Report.
LATEST PODCASTS
Feb 13, 2013 | Martha Manikas-Foster