Inside Out 93: Unbroken
05.30.11 | Kurt Goff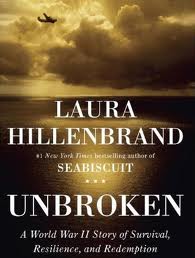 How can I even begin to describe to you one of the finest conversations I've ever had in my life?
Louie Zamperini the Olympian. The man Hitler wanted to meet at the 1936 Olympic Games in Berlin. Roommate of Jesse Owens. The guy who was chased by the Gestapo for nabbing a Nazi flag to take home as a souvenir. The runner who was closing in on the fabled four minute mile.
Louie Zamperini the World War Two hero. The man whose B-24 crashed into the Pacific launching him into a 47 day fight for survival with barely any food or water. On a raft; the sharks tormenting him day and night.
But that was nothing compared to the cruelty of his Japanese captors. Unimaginable torture. Yet against all odds he remained unbroken. God spared his life for a reason. You see Louie Zamperini embraced Christ as his Savior and went back to Japan to face his former torturers. He led many to Jesus.
Author Laura Hillenbrand's (Seabiscuit) bestselling book Unbroken has given Louie's amazing story new life. Soon to be a major motion picture, Louie seems to take it all in stride.
"It's all for the Lord", he told me.
He's 94 and is a joy to spend time with. I recently connected with him at his home in Hollywood, California. If you've read Unbroken, you'll also like the book Louie wrote himself: Devil At My Heels. Better yet sit down and enjoy my visit with him. Most of his interviews don't dedicate nearly enough time to his faith. This one unapologetically does.
Tweet
ABOUT THIS PODCAST
Inside Out airs Wednesdays at 12:20pm EST during the Family Life Noon Report.
LATEST PODCASTS
Feb 13, 2013 | Martha Manikas-Foster