Inside Out 92: Before We Kill And Eat You
05.27.11 | Kurt Goff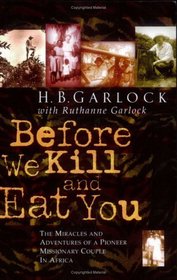 What if God called you to carry His Gospel to a group of cannibals? Gulp. I hope I would say yes, but I don't know.
Henry Garlock is a true hero of the faith because he did say yes. The story of his call to a unique ministry in Liberia in the early part of the 20th Century is riveting: healings, visions, supernatural protection, and yes, an amazing escape from a tribe of cannibals.
As told to his daughter-in-law Ruthanne Garlock, Before We Kill and Eat You is powerful reading.
Listen to hear the story in podcast form!
Tweet
ABOUT THIS PODCAST
Inside Out airs Wednesdays at 12:20pm EST during the Family Life Noon Report.
LATEST PODCASTS
Feb 13, 2013 | Martha Manikas-Foster