Inside Out 86: The Prosperity Gospel
05.19.11 | Kurt Goff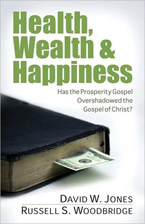 The desire for a thriving, healthy, and productive life is as strong as ever, especially in tough economic times. As people become more disillusioned at the state of the economy, they also become more susceptible to the lure of the prosperity gospel and its teachings of health, wealth, and happiness for the faithful.
But what happens when the promise of prosperity overshadows the promise of the real gospel--the gospel of Christ?

Believing that the prosperity gospel is constructed upon faulty theology, David Jones takes a closer look at 5 crucial areas of error relating to the prosperity gospel in the book Health, Wealth, & Happiness. In my interview with David we walk through the theology of the prosperity gospel movement to reveal its fraudulent core biblical teachings that have been historically and popularly misinterpreted, even by some of today's most well-known pastors.What does the Bible really have to say about wealth, poverty, suffering, and giving?
David is an associate professor of Christian ethics at Southeastern Baptist Theological Seminary. I believe David balances the fair with the firm here. Not an easy thing to do!
Tweet
ABOUT THIS PODCAST
Inside Out airs Wednesdays at 12:20pm EST during the Family Life Noon Report.
LATEST PODCASTS
Feb 13, 2013 | Martha Manikas-Foster