Inside Out 85: The Art of Dying
05.18.11 | Martha Manikas-Foster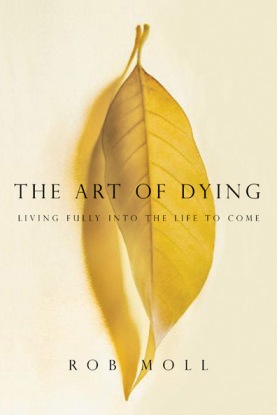 We don't think about death, or at least in my experience, we don't think about it until we must. We want to remain young, in part, because acknowledging age would mean facing the end of our lives.
Sobering, isn't it?
In our heads, Christ-followers know that death does not defeat us, that it is not the victor. We know that it is a passage, a transformation. A foundational tenant of our theology is that Jesus conquered death by His own death and resurrection. Still, most of us, like those in the culture around us, fear death. We will ward it off any way we can.
In the face of this, award-winning journalist and author Rob Moll wonders what it would mean if we reframed our approach to death. What would it look like if we prepared for what the church not-so-long-ago called "a good death"? How would we be different if we embraced the aging and the ill? What if our churches were even more intergenerational, giving the young more opportunities to see what faithful Christian lives looked like later on in years, and the allowing the elderly the chance to watch their faith being passed on to the youth?
According to Moll, acknowledging our mortality will actually help us live with more hope and more joy. It could also motivate us to care for others more intentionally as they make their transition to the life to come.
Learn more about Moll and his 2010 IVP book The Art of Dying at robmoll.com.
You'll find some of Moll's Christianity Today writing on the topic here, here, and here.
Join us for the podcast. If you like, leave a comment.
Tweet
ABOUT THIS PODCAST
Inside Out airs Wednesdays at 12:20pm EST during the Family Life Noon Report.
LATEST PODCASTS
Feb 13, 2013 | Martha Manikas-Foster