Inside Out 83: Finding God's Will
05.16.11 | Kurt Goff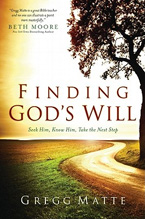 Do you believe God wants you to know His will even more than you want to know it? It's true!
"Your ears shall hear a word behind you, saying, "This is the way, walk in it," Whenever you turn to the right hand Or whenever you turn to the left." (Isaiah 30:21)
I believe the Bible teaches God has a specific will for all of us. The key is always our relationship with the Lord. Are we pursuing obedience to His revealed will in the Bible? Is the desire of our heart to follow Him even when we get it wrong? Grace and forgiveness abounds.
But we can't take any shortcuts.
We must make the God of God's will first in our lives. Then watch out! Your burning bush may pop up in the most unlikely place. Moses found his on an average, ordinary day while chasing sheep on the backside of the desert.
Pastor Gregg Matte from First Baptist Church in Houston, Texas is an amazing Bible teacher. As we were talking about pursuing God's will, he used Moses to highlight some incredible insights. If you need to know God's will for your life today... in whatever form... I hope God will meet you here in this conversation. If you're a reader, check out Gregg's book Finding God's Will.
Tweet
ABOUT THIS PODCAST
Inside Out airs Wednesdays at 12:20pm EST during the Family Life Noon Report.
LATEST PODCASTS
Feb 13, 2013 | Martha Manikas-Foster