Inside Out 82: The Way I Was Made
05.13.11 | Kurt Goff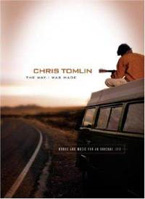 You were made for more. All that this world has to offer is temporary. We were created to shine the spotlight on God—to spread His fame everywhere we go! And while we're doing that... as worship artist Chris Tomlin reminds us...
Let's dance like there's no one watching!
The Bible clearly shows that we've been uniquely created for a purposeful life, but it's not meant to be about us, or our career, or our fame. It's all about God, and His glory. Thanks Chris for reminding me of that in our conversation!
For more of Chris' thoughts check out the book The Way I Was Made: Words and Music for an Unusual Life.
"Ascribe to the Lord the glory due his name; worship the Lord in the splendor of holiness." (Psalm 29:2)
Tweet
ABOUT THIS PODCAST
Inside Out airs Wednesdays at 12:20pm EST during the Family Life Noon Report.
LATEST PODCASTS
Feb 13, 2013 | Martha Manikas-Foster