Inside Out 81: The Next Christians
05.12.11 | Kurt Goff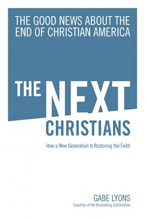 Are Christianity's best days in America yet to come? What about the things we all see that remind us daily that in many ways we live in a post-Christian culture? The headlines that scream Christian America is dead?
Gabe Lyons is a young thinker who is equally at home on network news shows as he is on Christian programs like Inside Out. You may not agree with everything he says, but his take on how a new generation of Christians is at work restoring the faith is compelling and worth thinking about. He calls these folks "restorers".
I'd love to have you sit in on my recent conversation with Gabe. The whole time we were talking I kept thinking about the words of Jesus:
"...I will build my church, and the gates of hell shall not prevail against it." (Matthew 16:18)
Tweet
ABOUT THIS PODCAST
Inside Out airs Wednesdays at 12:20pm EST during the Family Life Noon Report.
LATEST PODCASTS
Feb 13, 2013 | Martha Manikas-Foster