Inside Out 77: Breakthrough Prayer
05.05.11 | Kurt Goff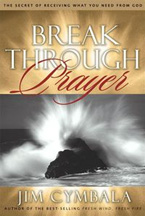 Here are some of my favorite verses:
"...The effective, fervent prayer of a righteous man avails much. Elijah was a man with a nature like ours, and he prayed earnestly that it would not rain; and it did not rain on the land for three years and six months. And he prayed again, and the heaven gave rain, and the earth produced its fruit." (James 5:16-18)
Elijah, the great prophet of God who called down fire from heaven. The guy who went toe to toe with wicked King Ahab and his evil wife Jezebel. A man with a nature like mine?
It's true.
He too was a sinner who needed a savior. But God answered his prayers in amazing ways. Consider this: The God of Elijah is the same God we pray to as followers of Jesus.
He hasn't changed. I think we can have about as much of God's involvement in our lives as we want. The key is prayer. Yes... we hold loosely to our requests... trusting in God's sovereignty:
"He (Jesus) went a little farther and fell on His face, and prayed, saying, 'O My Father, if it is possible, let this cup pass from Me; nevertheless, not as I will, but as You will.' " (Matthew 26:39)
"Now this is the confidence that we have in Him, that if we ask anything according to His will, He hears us." (1 John 5:14)
But let us not forget God wants to answer our prayers. He wants to have fellowship with us. Prayer is a conversation with God. What could be more important, more awesome? Jim Cymbala is the senior pastor of The Brooklyn Tabernacle in New York City. He gave me much encouragement to pursue what he calls Breakthrough Prayer.
Thanks Jim!
"Then He (Jesus) spoke a parable to them, that men always ought to pray and not lose heart." (Luke 18:1)
Tweet
ABOUT THIS PODCAST
Inside Out airs Wednesdays at 12:20pm EST during the Family Life Noon Report.
LATEST PODCASTS
Feb 13, 2013 | Martha Manikas-Foster