Inside Out 75: Trophy of Grace
05.03.11 | Kurt Goff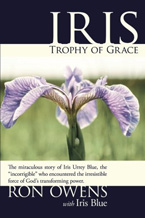 "The saying is trustworthy and deserving of full acceptance, that Christ Jesus came into the world to save sinners, of whom I am the foremost. But I received mercy for this reason, that in me, as the foremost, Jesus Christ might display his perfect patience as an example to those who were to believe in him for eternal life." (1 Timothy 1:15-16)
Words that are overflowing with reality. Hope for the hopeless. You see the Apostle Paul had a past he wanted to forget too. but God's grace was more than enough.
If Iris Blue was sitting next to me as I write these words I know she'd holler a big "Amen!" in her trademark Texas drawl. She ran away from home at 13. But as hard as she tried, she couldn't outrun Jesus.
Prostitution.
Drugs.
Crime.
Prison.
Pursuing her every step of the way was the Lord who in eternity past had devised a plan that would turn this "incorrigible rebel" into one of His amazing trophies of grace. This is her story.
Tweet
ABOUT THIS PODCAST
Inside Out airs Wednesdays at 12:20pm EST during the Family Life Noon Report.
LATEST PODCASTS
Feb 13, 2013 | Martha Manikas-Foster