Inside Out 73: Paws for Reflection
04.29.11 | Kurt Goff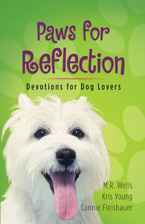 I need to confess something up front. I'm a dog lover. Always have been. Always will be. My two long-haired dachshunds, Kirby and Dudley, are a real joy...except when it's 14 degrees below zero with two feet of snow on the ground and I have to take them out...
Just kidding.

They're worth it! And I really believe God thinks so too. Marion Wells has a series of books out called Paws for Reflection. They're filled with snapshots of how God uses our dogs (and cats) to teach us more about His ways. That is... if we're willing to paws long enough to notice.
Listen to the podcast and feel free to share your own stories in the comment section below!
Tweet
ABOUT THIS PODCAST
Inside Out airs Wednesdays at 12:20pm EST during the Family Life Noon Report.
LATEST PODCASTS
Feb 13, 2013 | Martha Manikas-Foster