Inside Out 69: Under the Overpass
04.25.11 | Kurt Goff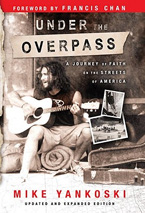 "Whoever oppresses a poor man insults his Maker, but he who is generous to the needy honors Him." (Proverbs 14:31)
There he is. His eyes have a hollowness… an emptiness to them. But I wouldn't know. If I look at him he might ask me for some kind of handout. Or worse, he might actually want to have a conversation with me. There she goes, shuffling down the sidewalk. Is that a slight limp? I wouldn't know. If I look at her she might tell me how she has nothing to eat (Her kids either). I move on, choking on my cynicism. Lord forgive me.
"Suppose a brother or sister is without clothes and daily food. If one of you says to him, 'Go, I wish you well; keep warm and well fed,' but does nothing about his physical needs, what good is it? In the same way, faith by itself, if it is not accompanied by action, is dead." (James 2:15-17)
Mike Yankoski was in church one Sunday when God called.
"Are you willing to step out of your comfortable life with nothing but Me to lean on and become one of the three million homeless people living on the streets in the U.S. this year?"
He said yes and brought along his friend Sam. For five months they lived on the streets of six major American cities. Each brought along a backpack and a sleeping bag. Mike also carried an old guitar.
That's it.
What they saw and learned changed their walk of faith forever. It might change ours too.
"…You shall love the Lord your God with all your heart and with all your soul and with all your strength and with all your mind, and your neighbor as yourself." (Luke 10:27)
Listen and take a trip Under The Overpass.
Tweet
ABOUT THIS PODCAST
Inside Out airs Wednesdays at 12:20pm EST during the Family Life Noon Report.
LATEST PODCASTS
Feb 13, 2013 | Martha Manikas-Foster