Inside Out 67: The Cross
04.21.11 | Kurt Goff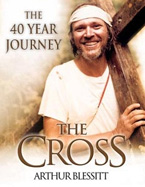 "Then Jesus told his disciples, "If anyone would come after me, let him deny himself and take up his cross and follow me." (Matthew 16:24)
We're all called to take up a cross as Christ followers. As in die daily to your agenda, give up everything for Christ's sake, and embrace the suffering so that you can embrace the joy. It's not always easy. It is always worth it. But what if Jesus said….
"Take up your cross. Your literal wooden cross. Put it on your shoulder and start walking. City to city. Town to town. Nation to nation. And be my witness."
Would you do it? Arthur Blessitt did. The stats:
Has walked around the world since Christmas Day, December 25, 1969 carrying a 12 foot cross for Jesus.
Now 38,102 miles (61,319 k.m.).
315 countries, Island Groups and Territories.
Walked on all seven Continents including Antarctica.
Been through 52 countries at war.
Arrested or jailed 24 times (Not for Crimes)
Listed in the Guinness World Records for the 'World's longest walk'.
Arthur says, "I Love God, I love people, I try to keep it simple".
Of the journey he says, "Jesus did it, I give Him all the glory".
You can't help but soak in his words as he shares stories and insights gleaned from an unusual life lived for Jesus. After listening to our conversation, if you want more info, check out his website.
Tweet
ABOUT THIS PODCAST
Inside Out airs Wednesdays at 12:20pm EST during the Family Life Noon Report.
LATEST PODCASTS
Feb 13, 2013 | Martha Manikas-Foster