Inside Out 64: Life Without Limits
04.18.11 | Kurt Goff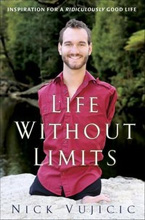 No arms.
No legs.
No limits!
Time spent with Nick Vujicic will change your life.
I know that's quite a bold statement but I really mean it.
He's one of God's special messengers.
But what a journey he's had.
Being born without arms and legs wasn't an accident.
God wasn't taken by surprise.
But the pain, confusion, and struggle with the whys made for hard going sometimes.
Especially as a child.
He often thought of ways to commit suicide.
But….God.
Nick's Christian parents prayed for him, loved him, and encouraged him from God's Word.
At age 15 these words changed his life:
John 9:1-3 (ESV)
" As he passed by, he saw a man blind from birth.
And his disciples asked him, "Rabbi, who sinned, this man or his parents, that he was born blind?" Jesus answered, "It was not that this man sinned, or his parents, but that the works of God might be displayed in him."
"God… is this why I'm the way I am? Wow. Thanks for trusting me with the hard road. May I bring you glory in the midst of this."
And he has.
Because of Nick's faithfulness and surrender God is doing truly amazing things!
Nick's message of hope has been featured on TV worldwide, videos of him on the Internet have gone viral, he's spoken to millions of people in evangelistic events all over the globe, and he's met with presidents and government leaders.
His appearances in churches have given encouragement to weary Christ followers just when they need it the most.
Maybe you need it now.
"Hi, I'm Nick. I've got no arms or legs. What's your challenge?"
This podcast is worth setting aside what you're doing to listen to a man who truly is God's hands and feet.
My conversation with Nick left my soul sparkling with the goodness and love of God.
I hope I'm trusting Jesus more than ever.
I know I'm a better Christian for it.
A better man.
Learn more about the book Life Without Limits as well as Nick's ministry Life Without Limbs.
Tweet
ABOUT THIS PODCAST
Inside Out airs Wednesdays at 12:20pm EST during the Family Life Noon Report.
LATEST PODCASTS
Feb 13, 2013 | Martha Manikas-Foster