Inside Out 59: The Next Story
04.11.11 | Kurt Goff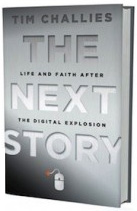 So since you're reading these words online I have a few questions for you:
Do you own technology or does it own you?
What does it mean that almost 2 billion people are connected by the Internet, with hundreds of millions more coming online each year?
How does our constant connection to digital devices affect our families, our church communities, and our daily walk with the Lord?
Fair questions to ask in the digital age.
Tim Challies is one of the most popular Christian bloggers/Web designers/writers online today). His new book is The Next Story: Life and Faith After The Digital Explosion. He recently reminded me that I need to have a theology of technology. That's much more than just a nice turn of a phrase.
Case in point: The first major theological debate started, fueled, and continued on the Web was influential pastor Rob Bell's book Love Wins:
"In Love Wins: Heaven, Hell, and the Fate of Every Person Who Ever Lived, Bell addresses one of the most controversial issues of faith-the afterlife-arguing that a loving God would never sentence human souls to eternal suffering. With searing insight, Bell puts hell on trial, and his message is decidedly optimistic-eternal life doesn't start when we die; it starts right now. And ultimately, Love Wins."-Publisher Blurb
Are we talking no literal Hell? Everyone ends up heaven? Are we just being too critical of Rob? Check out a previous podcast for more perspective.
In this interview with Tim I tackle all of the above. I also spoke with well-known pastor/author Eugene Peterson (The Message) about his controversial endorsement of Love Wins. Wow. Those surprising comments are included too. Order up! Some serious food for thought here.
Tweet
ABOUT THIS PODCAST
Inside Out airs Wednesdays at 12:20pm EST during the Family Life Noon Report.
LATEST PODCASTS
Feb 13, 2013 | Martha Manikas-Foster