Inside Out 53: When They Turn Away
02.21.11 | Kurt Goff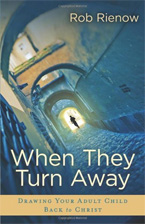 There isn't any sorrow for the Christian parent quite like when a child walks away from or rejects Christ. As a parent myself, just writing these words breaks my heart. This could happen to any one of us. Research shows 2 out of 3 empty nest parents in our churches have at least one child far away from God.
I don't think it's a coincidence that you're reading these words today. I believe with all of my heart God makes appointments. You may be living this out right now. Your adult child wants nothing to do with your faith...a child who may have once walked closely with Jesus.
You made some mistakes. We all do.
Perhaps you came to Christ when your children were older. Guilt rages. Or you tried to raise your kids in a Christian home... not a perfect one... but one where Jesus was lifted up in a real way. Guilt rages. You're either taking all of the responsibility. It's all my fault. Or no responsibility. It's their choice.
What can you do?
I think a better question is: What can God do through me?
Luke 1:37 (NIV)
"For nothing is impossible with God."
Please take some time to listen to my conversation with pastor Rob Rienow. Feel free to download it, pass on the link, or even burn a CD for someone. There is so much hope here... so much practical and biblical help for the hurting heart. You'll also find encouragement if your kids are still at home. What can I do to head this thing off at the pass?
There's no magic bullet, but it's worth the fight. Our kids are always worth the fight. God help us!
Amen.
Tweet
ABOUT THIS PODCAST
Inside Out airs Wednesdays at 12:20pm EST during the Family Life Noon Report.
LATEST PODCASTS
Feb 13, 2013 | Martha Manikas-Foster