Inside Out 45: The Spirit of Food
01.31.11 | Kurt Goff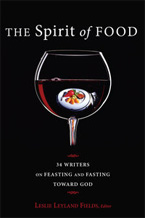 Come on now.
Are you really trying to say food is spiritual?
Well… yes.
I know.
I didn't think about it much myself.
But a recent conversation I had with Leslie Leyland Fields changed all that.
She pointed out the significance of food and the absence of it in God's Word.
Things like:
Adam and Eve are in a garden and are tempted by forbidden fruit
The Old Testament feasts
Jesus came as "living water" and "the bread of life"
He fed the hungry
He fasted from food
His last hours on earth were spent having dinner with his disciples
When he rose from the grave he shared food with his friends
And don't forget about the marriage supper of the Lamb that we as believers will take part in.
Whew… and that's just the beginning!
So how can we use food to grow closer to God?
Use it in a way that honors him?
Check out a conversation that will whet your appetite in many unexpected ways.
1 Corinthians 10:31 (ESV)
So, whether you eat or drink, or whatever you do, do all to the glory of God.
Tweet
ABOUT THIS PODCAST
Inside Out airs Wednesdays at 12:20pm EST during the Family Life Noon Report.
LATEST PODCASTS
Feb 13, 2013 | Martha Manikas-Foster