Inside Out 43: Hope for Men Who Have Been Abused
01.24.11 | Kurt Goff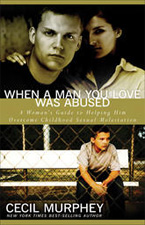 (Note: Mature subject matter ahead)
This is not an easy topic to tackle.
But it's an important one.
The stats are shocking: One in six men have experienced unwanted or abusive sexual experiences before the age of 16.
The lasting effects of this are many and can show up in a man's life in very destructive ways.
Especially in his closest relationships.
As guys, we just don't talk about it.
It strikes at the core of our manhood.
But I'm so glad my friend and brother in Christ Cecil Murphey has taken a very brave step and broken the silence.
To be sure, the road he has walked has been a long one.
The burden he has carried... a heavy one.
But now God is using his story to bring healing and forgiveness to so many hurting men and the women who love them.
The book is When a Man You Love Was Abused.
A book is one thing.
The voice and the story behind it is another.
Listen and you'll soon realize that someone really understands your pain.
Maybe for the first time.
And he wants to point you to the One who runs to meet you where you are today.
Psalm 147:3 (ESV)
"He (God) heals the brokenhearted and binds up their wounds."
If you need to talk to someone, please don't hesitate to call Family Life's FOCUS Counseling Ministry: 1-800-927-9083.
Tweet
ABOUT THIS PODCAST
Inside Out airs Wednesdays at 12:20pm EST during the Family Life Noon Report.
LATEST PODCASTS
Feb 13, 2013 | Martha Manikas-Foster