Inside Out 40: The Forgiveness Project
01.14.11 | Kurt Goff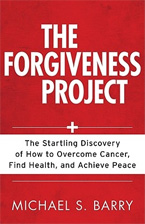 The cross casts such a wide shadow.
2 Corinthians 5:19-21 (NIV)
"...God was reconciling the world to himself in Christ, not counting men's sins against them. And he has committed to us the message of reconciliation. We are therefore Christ's ambassadors, as though God were making his appeal through us. We implore you on Christ's behalf: Be reconciled to God. God made him who had no sin to be sin for us, so that in him we might become the righteousness of God."
Forgiveness pours into the nooks and crannies of our broken lives.
Healing comes.
And yet…
We can accept the gift and refuse to pass it on.
In an odd sort of way, this is like locking ourselves in a prison cell.
With the key in hand mind you.
We just don't want to use it.
Will you pause for a moment and revisit a familiar story Jesus told?
Matthew 18:23-35 (ESV)
"Therefore the kingdom of heaven may be compared to a king who wished to settle accounts with his servants. When he began to settle, one was brought to him who owed him ten thousand talents. And since he could not pay, his master ordered him to be sold, with his wife and children and all that he had, and payment to be made. So the servant fell on his knees, imploring him, 'Have patience with me, and I will pay you everything.' And out of pity for him, the master of that servant released him and forgave him the debt. But when that same servant went out, he found one of his fellow servants who owed him a hundred denarii, and seizing him, he began to choke him, saying, 'Pay what you owe.' So his fellow servant fell down and pleaded with him, 'Have patience with me, and I will pay you.' He refused and went and put him in prison until he should pay the debt. When his fellow servants saw what had taken place, they were greatly distressed, and they went and reported to their master all that had taken place. Then his master summoned him and said to him, 'You wicked servant! I forgave you all that debt because you pleaded with me. And should not you have had mercy on your fellow servant, as I had mercy on you?' And in anger his master delivered him to the jailers, until he should pay all his debt. So also my heavenly Father will do to every one of you, if you do not forgive your brother from your heart."
Would you be surprised to learn that a lack of forgiveness extended to others can harm us not only spiritually but physically too?
After thorough medical, theological, and clinical research at the Cancer Treatment Centers of America, author and pastor Michael Barry made a fascinating discovery: the immune system and forgiveness are very much connected.
It's called The Forgiveness Project.
Tweet
ABOUT THIS PODCAST
Inside Out airs Wednesdays at 12:20pm EST during the Family Life Noon Report.
LATEST PODCASTS
Feb 13, 2013 | Martha Manikas-Foster