Inside Out 33: Christmas Hits, Behind The Music
12.20.10 | Kurt Goff
Every song has a story behind it.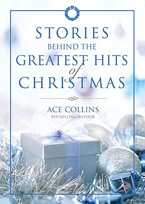 A story in it.
You'll find inspiration, encouragement, and just plain ol' joy hiding between the lines.
When it comes to Christmas music, we get so familiar with the tunes that the story plays second banana.
Understandable, but it's too bad.
Ace Collins has written a number of books about the music of Christmas.
His latest one is Stories Behind The Greatest Hits of Christmas.
I poured myself an imaginary mug of hot chocolate, snuggled up beside my imaginary fireplace, and thought about the not-so-imaginary snow falling outside as I dialed his number.
"Okay Ace… let's get started with some of my Christmas favorites..."
Tweet
ABOUT THIS PODCAST
Inside Out airs Wednesdays at 12:20pm EST during the Family Life Noon Report.
LATEST PODCASTS
Feb 13, 2013 | Martha Manikas-Foster