Inside Out 21: Taking It to the Streets
11.18.10 | Kurt Goff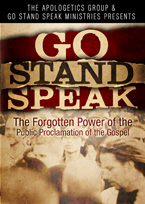 Go.
Stand.
Speak!
Romans 10:14 (NKJV)
How then shall they call on Him in whom they have not believed? And how shall they believe in Him of whom they have not heard? And how shall they hear without a preacher?
Have you run into a street preacher lately?
If so… did he make you feel a little uncomfortable?
Outdoor preaching has been around thousands of years if you think about it.
From the Old Testament prophets to Jesus to the disciples to the Apostle Paul.
Throughout church history really.
The public proclamation of the Gospel rolls on today despite criticism from both outside and inside the church.
No doubt there are some Christian street preachers who are going about this the wrong way, perhaps doing more harm than good.
But could it be that the Enemy of our souls wants us to label all of them as "crazy", "ridiculous", and "embarrassing" just to thwart the good God wants to do through them?
The people they're reaching out to may never go to church or read a Bible or watch Christian TV.
Or listen to Christian radio for that matter.
These brave souls stand as watchmen on the wall of eternity.
Who knows how many seeds have been planted that later grew into a saving faith through their preaching?
Who knows how many backslidden Christians have been reminded that they can return home and be forgiven?
Only God knows.
There's a movement afoot to encourage those who feel called to this kind of ministry.
It's called Go. Stand. Speak.
Experienced street preachers are featured in a new documentary that covers so much:
*What about freedom of speech issues?
*Is outdoor preaching biblical?
*Is it doing more harm than good?
*How do I know if I'm truly called to do this?
*How do I handle hecklers?
*Are my efforts pointless if it looks like no one is even listening to me?
*Bottom line: I'm afraid!
Pat Necerato is a street preacher who is heading up Go. Stand. Speak.
Listen in as I get his take on all of this.
And for even more info click here: http://gostandspeak.com/
May we never miss what God is doing just because it makes us feel uncomfortable.
Tweet
ABOUT THIS PODCAST
Inside Out airs Wednesdays at 12:20pm EST during the Family Life Noon Report.
LATEST PODCASTS
Feb 13, 2013 | Martha Manikas-Foster