Inside Out 106: Already Compromised
06.20.11 | Kurt Goff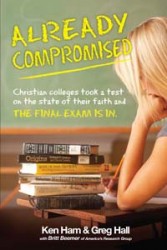 A stunning revelation about the nation's Christian colleges!
Apologetics powerhouse Ken Ham from Answers in Genesis joins me for an eye-opening assessment of the status of Christian colleges and universities from across America.
During the unprecedented 2010 study by Britt Beemer's America's Research Group (ARG), these colleges were polled on core faith questions, and the results are revealing and shocking.
We examine the beginnings of the Ivy League schools and their now forgotten purpose at their formation. We also take a look at the views, responses, and answers to basic questions from these Christian colleges that will surprise and alarm you.
ARG interviewed university presidents, academic deans/vice presidents, as well as the heads of the science and theology/religion departments.
Discover how these institutions address the cultural battlefield of science, Christianity, and the accuracy of the Bible, including views of inspiration, inerrancy, and infallibility.
We've got tips for choosing colleges and questions you must ask to ensure your children will be instructed to stand boldly on God's Word.
Will your college of choice pass the critical test by building your child's faith instead of destroying it?
Also joining us is Marvin Olasky, editor-in-chief of World Magazine.
This is a conversation you don't want to miss!
Tweet
ABOUT THIS PODCAST
Inside Out airs Wednesdays at 12:20pm EST during the Family Life Noon Report.
LATEST PODCASTS
Feb 13, 2013 | Martha Manikas-Foster