FL News: Storm Coverage
07.27.12 | Sarah Harnisch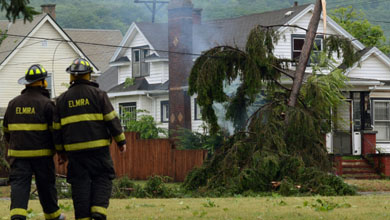 Elmira, New York was among the hardest hit. There's hardly a street without a downed tree on it. At the center of the crisis is Joel Robinson, the Executive Director for the Sullivan Trail Chapter of the American Red Cross, which covers Chemung and Schuyler Counties.

Morning News Anchor Sarah Harnisch spoke with Joel.
Power crews are racing to get the lights back on after deadly storms ravaged the Twin Tiers, especially parts of central and eastern Pennsylvania and the Southern Tier. Mike Smith with the Chemung County Emergency Management Office says there's a State of Emergency in Elmira. The Red Cross has set up a shelter at Elmira Free Academy and police are urging no unnecessary travel. In Pennsylvania, a 66 year-old woman was killed in a Potter County after being hit by a falling tree in Genessee Township. In New York City, a 61-year-old man was killed when lightening struck a church, and scaffolding fell on him. There's still very few people with power anywhere in Potter County. State police barracks are running on backup generators. The Red Cross has set up an emergency shelter in Elmira, New York. Extensive storm damage also reported in places like Brookville, PA, Williamsport, PA, Addison, NY, and Owego, NY.