FL News: I Fought For You
05.30.11 | Sarah Harnisch
(A raw, unedited version of this interview is also available)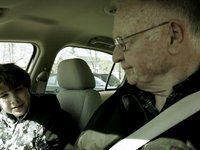 In 2010 upstate New York filmmaker, Andrew Manzano, was in Dansville, New York watching a family film with his kids. As he glanced around the theatre, he realized what an incredible place it would be to shoot his own film. He wrote scriptwriter Josh Pies and songwriter Dave Bode, and a year later, they had a video that went viral.

I Fought For You has been seen in all 50 states. It's been in school classrooms, at a Glenn Beck rally before 5-thousand people, and in 3-thousand churches. In fact, a year later, the film has been seen by more then 7-million-people across the world.

Family Life's Sarah Harnisch sat down with Andrew and Josh to pick their brains to find out how a film goes viral, what it feels like to become famous, how they reacted to seeing their film watched millions of times, and if shooting a film on veterans (with veteran soldiers as actors) changed the filmmakers.
Learn more about Andrew, Josh and Dave.