Holy Land Tour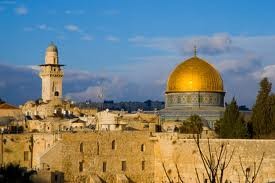 FAMILY LIFE IS GOING TO THE HOLY LAND! THE HOLY LAND PILGRIMAGE TOUR WILL BE FROM WEDNESDAY, SEPTEMBER 3 TO SUNDAY, SEPTEMBER 14, 2014.
Have you ever dreamed of visiting the places you have read about in the Bible, of seeing sites where miracles happened, and touching the sea that Jesus walked on? Join Family Life's pilgrimage tour to be inspired as you experience locations such as Bethlehem, the Mount of Beatitudes, Capernaum, Nazareth, and Caesarea Philippi. The tour has been designed to offer the utmost in both inspirational and historical Biblical education!
We'll tour sites from the Old Testament like Tel Hazor, Tel Dan, Mt. Carmel and Ein Gedi. Those who desire can be baptized in the Jordan River at Yardinet near the Sea of Galilee. We'll take a boat ride on the Sea of Galilee. While in the Judean Desert, we'll tour Qumran where the Dead Sea Scrolls were discovered and have a chance to float in the Dead Sea. Our time in Jerusalem will start with a panoramic view of the holy city from the Mt. of Olives, we'll walk the Palm Sunday road, meditate in the Garden of Gethsemane and walk on the Via Dolorosa. (Click here for the full day-by-day itinerary.) This and so much more!
PACKAGE INCLUDES:
Round trip airfare to Tel Aviv
Full breakfast and dinner each day
Most tips and gratuities
Airport transfers while in Israel
Accompaniment by experienced guide, guest pastor, and travel agent
Round trip bus transportation from three pick-up locations to the airport
Transportation in Israel (using modern, luxury class, air-conditioned tour buses.)
Group travel insurance the Travel Guard
9 ½ days of sightseeing (admission to all sites)
9 nights of accommodations
-Four nights are at the Nof Ginosar at the Sea of Galilee
-Five at the Ramat Rachel in Jerusalem
It has been said, "A trip to the Holy Land enhances reading the Bible, in much the same way as viewing a picture in color enhances what was only previously seen in black and white." Come to Israel and give color to your Bible study time.
Price per person: $3998 (based on double occupancy)
- A $600 deposit is due January 15, 2014
- Final payments are due May 1, 2014
To secure a spot download the application and send along with deposit to:
ROBERTA KLEIN
GIFTS FROM ABOVE
3130 MEMORIAL HWY, SUITE 102
DALLAS, PA 18612
Phone: 570-575-1711// Fax: 570-675-3225// E-mail: