Creative Arts Staff
Performing Arts, Events, Activities
Darren Litz / Performing Arts Director | email
Darren B. Litz heads the music and drama outreaches at Family Life, manages program development, and produces and directs our stage productions.
Prior to coming here, Darren was the Director of Vocal & Music Theater Studies at Bradford Area High School in Bradford, PA. In addition to being a public schools music educator for 16 years, he served as Worship Coordinator at the Bradford Christian & Missionary Alliance Church and guest directed several festivals across New York and Pennsylvania.

While living in Bradford, Darren produced, directed, arranged and choreographed materials for numerous community and high school productions. His students performed with many national artists, earning regional, state, and all-eastern recognition in vocal competitions.

During the 1990's, Darren rededicated his life to serving God and was inspired to create a gospel quartet, 4 Men for God, that ministered to thousands of people in all types of settings, from prisons to elegant auditoriums. After three years of watching God open and close doors, Darren was called to Family Life in 2002.

A graduate of Indiana University of PA, Darren is a member of the American Choral Director's Association, Music Educator's National Conference, and received a Diplome D'Honneur for excellence in vocal music from the Federation Internationale Des Choeurs D'Enfants. While at Bradford High School, his choral program was honored by the Pennsylvania State Education Association.
Darren lives in Bath, NY, with his wife, Kim, and their two daughters, Brielle and Ainslee. "God continues to fuel my passion for serving others with the gifts he has given me. I give all the glory to God, because apart from Him, I can do nothing. I am unworthy, but still His."
Elizabeth Humphrey / Performing Arts Assistant | email
Liz helps with most everything related to performing arts. And with all that's going on here, we're grateful for her! Liz is no stranger to these halls either. Before being hired, she was involved with several Family Life productions over the years. Now we're glad to have her on staff.
As Performing Arts Assistant, Liz oversees and develops two of Family Life's youth outreach teams— Konnected and New Vine. Other aspects of her job include writing and arranging music, plus directing and other stage responsibilities for the shows. It's the perfect job combo for Liz. She gets to teach music and drama, and share the love of Christ in ministry. There's nothing better in her book.
Here's an interesting tidbit about Liz' life: both her parents are professional jazz musicians. Liz and her family travel around Upstate NY and even minister internationally, leading worship in churches, on the streets, and in coffeehouses—wherever they can find a place to play!
Liz loves to sing and play music, too. She's been in college drama productions, choirs, jazz bands, and wind symphonies. Liz has also taught private voice, piano, and flute lessons. One of her most recent accomplishments was writing, directing, producing, and performing in a mini-musical based on Corrie Ten Boom's book, The Hiding Place.
Liz gave her life to God at age six. She knew then that she'd be serving Jesus for a lifetime. As Liz grew spiritually and musically, God drew her into full-time ministry. After doing a show with Family Life, Liz was approached by Rick Snavely, asking her to "give us a call when you graduate." That's exactly what happened, and in January 2010, Liz joined the Family Life team.
Liz graduated from Houghton College with a Bachelor's in Music Composition. A few months after graduation, Liz married Michael—the man of her prayers and dreams. Her favorite thing to do is hang with her hubby. She also loves to sing, dance, eat chocolate, and play with her dog, Rabbi.
"Not to us, O Lord, not to us but to your name be the glory because of Your love and faithfulness." Psalm 115: 1
Mike Humphrey / Performing Arts Assistant | email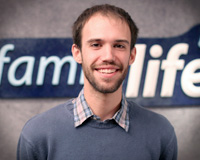 Mike gets all of his exercise at work these days. Formerly an assistant professor of wilderness biology, he covers the same distance in thirty days at Family Life that he used to cover on a thirty day Alaskan backpacking trip with his students. Now he spends his days in the Performing Arts department.
He grew up in Warsaw, New York, little more than an hour from the Family Life Center, but managed to know very little about the ministry until well into his career at Houghton College. It was there that he met the woman he would marry, Elizabeth (Crane) Humphrey. It was Liz who stole his heart and it was Liz who introduced him to Family Life.
Mike loved school, or at least it looked that way. It took him six years to finish a four year degree… Don't get us wrong, he may not have been the sharpest student, but he was at least average! It took so long because he alternated semesters between enrollment as a student and teaching ecology. It was an odd but enjoyable arrangement. By the time Liz and Mike graduated in May of 2009 they had been engaged long enough and married two months later. He continued teaching at Houghton for one more semester before they packed up their home and trekked to Bath. This proved easy for them as they had gotten very good at living out of backpacks by then.
Once in Bath, Liz began work as the Performing Arts Assistant while Mike looked for a teaching job. Over time, teaching jobs became less attractive and less available while he found himself spending almost forty hours a week volunteering at Family Life. It became clear, at least to those around him, that he was fighting the call to work at Family Life. Darren, Jeff and Rick decided enough was enough and started paying him. He has since stopped looking for a teaching job.
In his spare time he lollygags around with his dog Rabbi, plays various instruments and sings with his family and friends, climbs trees and reluctantly watches chick flicks with his wife. He still occasionally does things that satisfy his inner biologist such as breeding tropical fish, propagating rare plants, photographing wildlife, climbing mountains and eating marshmallows around a fire.
Emily Oliver / Director of Events | email
Emily can be found working behind the scenes for the many events and concerts; booking artists, researching venues, and working out the details from beginning to end. She also collaborates with churches, ministries and organizations for events co-sponsored by Family Life. Emily joined the ministry in 2008 after answering God's call to leave the south and move back to snowy New York.
Emily graduated from SUNY Geneseo with her undergraduate in Interpersonal and Organizational Communications. While in college Emily sensed the Lord calling her to ministry. Not sure what that would look like, she waited for the Lord to lead. Over the years Emily has had the opportunity to serve in several areas including Youth, Urban, and Crisis Response ministries. Passionate about building relationships and investing in people, Emily has a heart for social justice and urban ministry.
Emily cherishes time with friends, loves to ski, and is always up for checking out a live band. Her love for travel often finds her seeing new places, meeting new faces, and going on new adventures.