Welcome Steve Smith
07.28.11 | Darcie Schwarz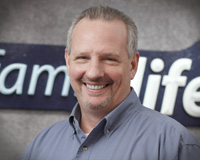 Welcome to Family Life, Steve! Steve is joining Rachelle Renee and Randy Snavely on Family Life Mornings.
Steve's radio career has taken him to Connecticut, North Carolina and Oklahoma, where he spent 19 years as the morning show guy with former KBEZ 92.9FM in Tulsa, now BOB-FM. Once in Oklahoma, Steve's life changed in many ways. On January 15, 1988—his very first day in Tulsa - Steve turned his life over to Christ. That's a pretty important change!
Now back on the East Coast, Steve is amazed at how quickly God works, and when you least expect it. After 30 years of working for radio stations with adult contemporary formats, Steve is thrilled and thankful to be working for a Christian station. Steve also is thankful for his family, his Philadelphia sports teams, and most of all... his God.