Make family memories at Family Life
03.20.12 | Darcie Schwarz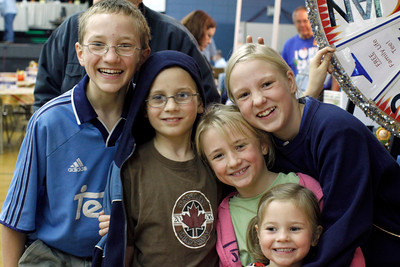 It's time for Spring Sharathon, when families are invited inside the doors of Family Life to share in the joy and excitement of this three-day fundraising event.
There will be delicious dinners, desserts and fun family activities to share with your kids on Friday and Saturday, including a kids' carnival that will keep your kids and teens busy. Enjoy full-face painting, nail art, a petting zoo, balloon creations, and inflatable games that do not disappoint! (I mean, who can be unhappy in a bouce house, really?)
The carnival will run from 4:30-7:30 p.m. on Friday and 11 a.m. -8 p.m. on Saturday. Games are kid-friendly, easy to win, and ticket prices are low so kids can have their fill of activity.
Friday night is "Family Night" during Sharathon. The meals are kid-friendly and will offer a good spread of family favorites. Dine on your choice of dishes - a fish dinner, walking tacos, pizza, wings, hamburgers, hotdogs, and macaroni and cheese. Meals are $7 a person. On Friday, at 6:45 p.m., be amazed at illusionist George Sweatt as he performs fun, visual magic effects and stunts that will leave you in disbelief!
Saturday is "Barbeque Day" with roasted chicken and pulled pork served around the clock, starting at 11 a.m. and ending at 8 p.m. A ventriloquist show will start at 3 p.m. on Saturday to entertain visitors with clean comedy, puppet sidekicks, and lots of audience participation.
All Sharathon meals and activities will be held at Family Life, 7634 Campbell Creek Road, off Route 415 in Bath. Admission is free. We can't wait to see you here!
Would you like to make a faith promise, or be a Sharathon volunteer? Please click the links!