Operation Christmas Child
10.31.11 | Darcie Schwarz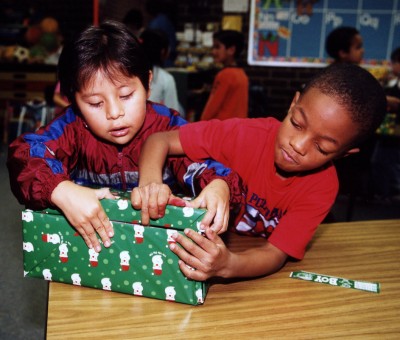 Samaritan's Purse is asking for donations in support of Franklin Graham's Operation Christmas Child. This is an international missions initiative you don't want to miss. The point is charitable and the process is fun!
Anyone interested in donating to the cause are asked to pack small toys, hard candy, school supplies, t-shirts, hats, toy jewelry, and other personal items in shoe boxes. Feel free to wrap your shoe boxes in Christmas paper, too!
Last year, Bath, Corning, and Elmira-area residents donated over 10,000 shoe boxes in support of Operation Christmas Child. That's a pretty sizeable number!
Once collected and sorted by OCC volunteers, shoe boxes will be shipped and distributed to hurting children around the world—all living in countries stricken by war, poverty, famine, disease, or natural disasters. For many of these children, the shoe box gift will be the first gift they have ever received.
Family Life Ministries, located at 7634 Campbell Creek Road, will be collecting shoe boxes for eight days on November 14-21. Collection hours are Monday through Friday, from Noon to 5 p.m., and Saturday and Sunday, from 11 a.m. to 2 p.m.
For more information on OCC collection sites in Bath and surrounding areas, visit www.samaritanspurse.org/occ to search by zip code. Instructions on properly packing a shoe box gift are listed online.