New Radio Programs Are Here
04.18.11 | Cecil Van Houten
(All times are EST.)
Family Life is pleased to announce some exciting program changes! Our programming has always been designed to equip, enrich and encourage listeners and we believe these additions and changes will help make a positive difference in your life.
First, the "Lunch Break" (from 12:00 pm to 2:00 pm) now includes a new, thirty-minute version of "Inside Out", with Kurt Goff, Martha Manikas-Foster, and co-host Bob Price. Because of the growing interest in this feature, we have decided to expand the short version which ran in morning and afternoon drive into a full thirty-minute daily program that will highlight conversations with authors, speakers, newsmakers and everyday people who are making a difference in the culture because of their faith. Every weekday Kurt or Martha joins Bob Price to welcome a different guest and discuss an interesting topic. The new Inside Out airs at 12:30 pm, immediately following the Noon Report. Of course, each interview will still be available on our website.
So where did Chip Ingram and "Living On The Edge" go? Just after news at 1:00 pm. Because the program is listened to by so many during the Lunch Break, we moved it back just 30 minutes so you can still hear Chip's teaching in the middle of your day.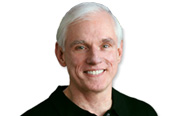 If Living On The Edge is now at 1:00 pm, what about "Focus On The Family"? We've created a powerful hour of programming starting at 8:00 pm, following The Family Hour, which starts with a brand new program featuring our good friends Howard Dayton and Steve Moore called "MoneyWise". It's been several years since Howard was on the air with a call-in program dealing with financial matters from a Biblical perspective. We're pleased to say he's back on the air and we are privileged to partner with his organization, Compass-Finances God's Way.
Focus On The Family follows MoneyWise at 8:30 pm, "Turning Point" with David Jeremiah airs at 9:00 pm, and "Truth For Life" with Alistair Begg airs at 9:30 pm.
So, the new weekday lineup will be:
| | | | |
| --- | --- | --- | --- |
| 12:00 pm | | | Noon Report |
| 12:30 pm | | | Inside Out |
| 1:00 pm | | | Living on the Edge |
| 1:30 pm | | | Walk in the Word |
| 6:00 pm | | | PM Praise |
| 7:00 pm | | | Family Hour |
| 8:00 pm | | | MoneyWise |
| 8:30 pm | | | Focus on the Family |
| 9:00 pm | | | Turning Point |
| 9:30 pm | | | Truth For Life |
We're excited about these programming changes and hope you will be too.
---