Christmas Music Online
11.22.10 | Darcie Schwarz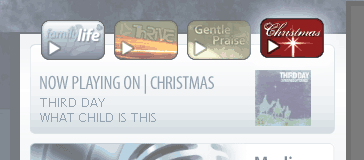 The holiday season is here and Christmas music has a special way of cheering the home and brightening your spirits.
With this in mind, Family Life has two new Internet music streams, each fully dedicated to Christmas music. One stream offers a mix of the contemporary and traditional Christmas music we play on the radio. The other stream is mostly instrumental, playing light and easy Christmas melodies for a peaceful holiday feeling. The player buttons are on the front page of fln.org, in the upper lefthand corner. We hope the music helps you celebrate the season with delight and gratitude for God's many blessings.
Also, the 72-hour Christmas music festival will air on Family Life from Dec 23 through Dec 25. That's 72-hours of Christmas music with no interruptions. Also starting after Thanksgiving, Family Life will air special Christmas programming by Focus on the Family, Max Lucado, and more. Plus enjoy original radio drama by Family Life performing arts.
So detangle those lights, ready that shovel, and bring on the merriment for your best Christmas season yet. We're praying for Family Life staff, listeners and supporters, that amidst the holiday busyness, we remember our Savior and what He did to secure our place at His side, forever.