Operations Staff
Business, Technical, Maintenance
Dave Best / Business Manager | email
Dave prepares and analyzes monthly financial statements, and handles other accounting responsibilities for Family Life. He also enjoys working with donors, vendors, and employees to ensure that all financial and compliance reporting is presented and communicated in a fair, accurate, and comprehensible format.
Dave came to Family Life in 2004 after working as a CPA in public accounting and other industries. He grew up in Western PA, and received his accounting degree from Grove City College, where he met his lovely wife, Mindy. They were married shortly after graduation and have been blessed with a wonderful family.
Dave grew up in a loving home, and attended church and Sunday school from an early age. As a teenager, Dave was confronted with questions about the meaning of his faith, which tested his personal response to the claims of Jesus and challenged him to completely trust in the Lord for salvation. Dave chose to commit his life to serving Christ, realizing that the only true Hope that exists in this world rests in the person of Jesus.

Dave enjoys playing sports, cutting firewood, and camping with his family.
Sandy Parker / Office Manager, Executive Secretary | email
Sandy Parker has many titles - Office Manager, Board Secretary, and Department Supervisor. She's happiest when juggling many things at once - obviously! Sandy enjoys lots of responsibility and considers it a privilege to work "behind the scenes." She'll do whatever it takes to help other departments get things done.

As you've probably guessed, Sandy has held many different titles throughout her career, including Insurance Claims Department Supervisor in Texas; a shoe store manager in New Mexico; a Collections and Foreclosure Supervisor in Texas; and a legal secretary to four attorneys in Bath, NY. Phew!
In 1994, Sandy took a job at Family Life as a secretary for Dick Snavely. Five months later, she was promoted to Office Manager. Sandy enjoys working alongside each employee of Family Life and truly loves what she does. Past jobs didn't hold any real purpose for Sandy, but since coming to Family Life, her work has meaning - the result of being in God's Will. Sandy will say, "I want to see the light from God's flashlight just ahead of me, no matter where I am."

Sandy loves taking pictures, making handcrafted cards, bird watching, and gardening. She married her hubby, Pete, in 1980, and has 4 step-children, 5 grandchildren, and 1 great-grandchild. Sandy lives in Avoca and loves the beautiful western countryside of Upstate New York. She wouldn't be anywhere else.
Jackie Snavely / Office Assistant | email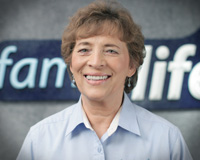 Jackie does part-time work for Family Life, but is still very involved in what goes on day-to-day at the ministry. She helps the ticket office with deposits and lends a hand in the kitchen when needed.
When Jackie was ten years old, she was sent to an orphanage in Millersville, PA after the death of her father. The orphanage was a good home ran by a Mennonite denomination in Lancaster County. After three years there, Jackie was sent to a foster home where she was taught the value of hard work on a farm. This experience stayed with Jackie, and shaped her life as a girl.
Jackie met her husband, Dick, at a birthday party when she was a teenager. Jackie was dating someone else at the time, but a year later the two ended up meeting again at a church service. Much to Jackie's embarrassment, a friend set them up "to meet" after the service let out. After two years of dating, it was clear what God had for them.
Dick and Jackie got married and went into full-time ministry. Dick worked for Billy Graham's ministry for two years before moving on to pastor a church in West Virginia. In 1957, the Lord called them to New York to organize Area Youth for Christ (YFC). Jackie knew in her heart that being Dick's wife meant being a strong helpmate, supporting his daily work for Christ.
As a homemaker, Jackie raised four children – a daughter and three sons, all of whom serve Family Life in some way. After the kids grew up and started families, Jackie had more time to serve at Family Life, work she loves doing! Jackie also loves to read and has over six hundred books in her home library. Her life-prayer is to honor God and to teach her children and grandchildren how to love and live as a follower of Christ.
Cindy Prunier / Receptionist | email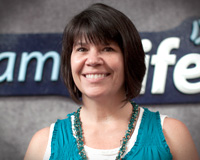 Being Family Life's receptionist, Cindy is genuinely compelled to make every person feel like their call is the most important call of the day. She may never meet the people she speaks with, but Cindy is blessed to use her gifts and talents to make a special impression.
Looking back, every time she talks about how God provided jobs for her and her husband at Family Life, Cindy gets goose bumps! There was a time when both of their previous jobs had been in jeopardy due to budget cuts. Giving their concerns over to God, both husband and wife prayed for a place of employment where they could help further the Lord's work.
The Pruniers prayed for over a year, and after hearing about the receptionist job on FLN, Cindy eagerly applied. While waiting for an interview, Joe remarked with determination, "I'm going to work at Family Life, too!"
The very next day Cindy heard of another job opening at the ministry – one for a building and grounds supervisor! Cindy quickly told her husband, Joe, and the Lord's plan became quite obvious. Now both full-time employees, Cindy and Joe are humbled to a part of a ministry having meant so much to them throughout the years!
Prior to Family Life, Cindy worked in the Elmira School District as an attendance clerk and welcome center receptionist. Before that, she held jobs in special education as a teacher's aide, secretary, and yearbook advisor. Cindy has three married sons of her own and three step-children. Between them, she and Joe have five grandchildren with more on the way! In her free time, she loves spoiling the grandkids, dabbling in photography, and scrapbooking.
April Wright / Office Assistant, Ticket Agent | email
April works at Family Life in the front office selling tickets, completing deposits, sorting mail, and helping out with anything else that needs stapling, stuffing, collating, or coping. The ticket office is fun place to be, and April is blessed to laugh with, support, and work alongside several other joyous ladies.

Before coming to Family Life, April worked for 10 years in the hospitality industry. She also worked as an assistant business manager at a private Country Club. April knew a little about Family Life before working here because her sister was briefly employed with the ministry. The care and compassion of the staff drew April like a magnet. She interviewed many times before being hired. God's timing proved the best when April got the job in October 2008.
April enjoys spending time with family, friends, and her wonder dog, Barnabas. NY is such a beautiful place to live anytime of the year. She likes to be outside swimming or having snowball fights with her niece and nephew. She also loves walking in the woods, camping, canoeing, drawing cartoons, knitting, listening to music, reading, and playing board games. God promises to give us life in abundance, and He's certainly come through for April on that one.
Colleen Conner / Ticket Agent | email
Colleen works as a ticket agent at Family Life. Her favorite part of the job is the front office girls. They make the workplace fun, inviting, and above all else, joyful.
As far as her day-to-day tasks go, Colleen is a business office superstar! She sends out mail, sets up ticketing databases, makes deposits, works on printing and copying jobs, and does whatever pops up on her desk. Colleen smiles knowing God gave her a chance to serve Him by helping the staff here. Before Family Life, and just after graduating college, Colleen was an office manager for a painting company in Buffalo, NY. She also enjoyed waitressing at a local restaurant just outside the city.
One day, Colleen was driving home from work, listening to FLN, when she heard about a job opening in the ministry's ticket office. The opportunity sounded interesting, so she prayed, applied, and after a few interviews, was hired as a ticket agent. We're so glad she's here! Colleen's sweet spirit really lifts us up.
Colleen loves being with her friends and family. She also likes traveling, seeking new adventures, and playing board games in her free time.
Lydia Best / Ticket & Office Assistant | email
There is rarely a dull moment in the front office and Lydia enjoys the various responsibilities of her job. Ticket orders, daily deposits, online registrations, and monitoring inventory keep her very busy! Lydia says one of the best parts of her job is the incredible group of ladies she's honored to work with each day. What a blessing they are in her life!
Lydia started at Family Life in 2007 as a part-time receptionist. In May of 2012 she was thrilled to accept the job of a ticket agent, get a new desk and a whole new set of responsibilities. For Lydia, it's an incredible and fulfilling thing to be included in the things God is doing at Family Life. Along with her front office duties, Lydia spends time with the Performing Arts staff, as she loves theater, acting, singing, and helping with the Youtheatre programs and summer camps.
Lydia loves the simple things in life—drinking a good cup of coffee, browsing antique stores, and spending time with the amazing people in her life.
Tom Fuest / Public Relations, Underwriting Director | email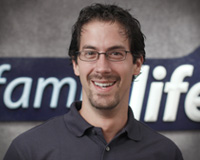 Before becoming Underwriting and PR Director, Tom frequently visited Family Life as a fellow friend and volunteer. After over a year donating his time at Sharathons, concerts, and other events, God opened the door for Tom to begin full-time work here. We are so blessed to have him!
Tom's work at Family Life includes maintaining relationships with area churches and Christian organizations in regions of New York and Pennsylvania. Tom also informs business and nonprofit organizations on how they can partner with Family Life in support of the ministry and their business services.
Before joining Family Life, Tom worked as a physical therapy assistant for 11 years at Brooks Memorial Hospital. With a passion for the medical field and helping those in need, Tom served as an EMT for Alstar Ambulance and a volunteer fireman for the Fredonia Fire Department.
Tom accepted Jesus Christ at 12 years old. In high school, his heart was ignited for missions while visiting Honduras and serving the native people there. With his church at Harvest Chapel, God truly opened Tom's eyes to the love and grace of his son, Jesus Christ. After returning home from missions, Tom started a small group for 20 and 30 year olds in the Chautauqua area called NYCA (Nurturing Young Christian Adults). God has continued to bless Tom with additional missions opportunities to Miami, Mexico and Honduras.
The Lord blessed Tom with his wonderful wife, Dana. They live in Bath, NY, and are proud to have six nieces and four nephews between them! Tom enjoys kayaking, cycling, hiking, movies, and making Dana laugh.
Dean Houser / Public Relations | email
Dean's first contact with Family Life was at Selah's Christmas Tour in 2002. A short time later, Dean met Randy Snavely, who then worked as a PR rep. While they talked, Dean's interest in the ministry grew, and he soon decided to start volunteering at events. Dean says, "Being a volunteer really opened my eyes to how God changes lives through the ministry. I remember having a strong urge to tell more people about Family Life and what God was doing."
Well, that happened to be the Lord's path for Dean! Now he works at Family Life as a PR representative, maintaining relationships with area churches and Christian organizations in different regions of New York and Pennsylvania.
Dean accepted Christ in junior high school, but after graduating, turned away from the church and wandered aimlessly for several years. Life eventually changed after he married and started a family. Shortly after the kids came, Dean and his wife, Karen, agreed that going to church again would be a good thing. At that point, Dean wasn't aware of how this decision would end up changing their lives.
Since 2006, the Houser's have worked as short-term missionaries in Uganda, Africa, alongside other national workers, to help break the cycle of poverty in the communities. The Lord has poured out their lives for the children and families of orphanages, schools and child development centers. There's no limit to God's grand work when he uses totally surrendered lives!
Also a retired Corrections Officer for Chautauqua County, Dean worked in the sheriff's office for almost two decades, and still serves the town as a volunteer fire fighter. Dean also served as Mayor of the Village of Sinclairville, NY for 12 years, which makes him the first former public official Family Life has ever employed!
Nick Finlayson / Head Chef | email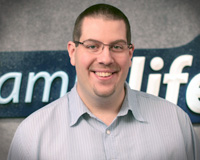 Nick is head chef at Family Life, creating menus and cooking delicious meals for events. It's no small job considering Family Life hosts a range of 30-40 events a year! In the past, Nick cooked for large establishments like hotels, restaurants, banquet halls, colleges, and retirement homes. His most recent position was as chef manager at Hilltop Retirement Home in Johnson City, NY. There he cooked for Hilltop residents and managed the culinary staff.
Nick is excited about working with food again. His last few jobs have been corporate and managerial in nature, but at Family Life, Nick gets to do what he loves – create new and interesting food in the kitchen! He loves experimenting with new ideas and food recipes, and has a passion for marinades and seasonings.
Nick didn't spend much time in the church growing up. He met his wife Angie in college, and because of her witness, began a relationship with Jesus Christ. Angie took Nick to church one morning, and it was by her Godly influence, and the influence of other believers, that Nick learned to walk with God. Now this awesome couple is walking side by side in the light!
Nick loves spending time with his family and has been married to Angie for several wonderful years. They have three children - Amelia, Kathryn and Jacob – and moved to New York from Delaware not too long ago. It didn't make sense to Nick at the time, but the Lord was leading his family back to where Angie grew up, and back to her childhood church - Primitive Methodist Church in Johnson City.
Nick is excited about the future and about God's plan for his family and career at Family Life. He cherishes the opportunity to minister to people through his food.
Gary Farnham / IT, Network Administrator | email
Gary builds and maintains Family Life's IT infrastructure, including Web servers, data warehousing, internet streaming, and many other applications. Database administration is a significant part of Gary's daily work, along with patch management, user administration, and IT support.
Gary was raised in a Christian family, and is thankful that his parents hauled him and his brother, Tim, 30 miles to church every week. Gary believed in Christ as a young boy, but at age 17, finally accepted him as Lord of his life.
Beginning his technical trek fresh out of high school, Gary worked as a mechanic for a boat marina on Lake Erie. His computer hobby turned into a career 14 years later when he was hired as computer technician for Sector One Computer. That eventually led to an IT job in the banking industry, where Gary worked for seven years until a bank merger displaced most of the IT department. For the first time in his life, Gary was jobless. It was some 6 months later when his pastor mentioned a job opening at Family Life - a place that gave meaning to his work. (Gary's words, not ours.) It's truly amazing how God works.
Gary has been married to his high school sweetheart, Ruth, for 37 years. They have three adult children and one grandson. His favorite things to do are woodworking, hunting, fishing and sitting on the porch with Ruth. He also likes grape-harvesting, which is a nice change-of-pace from computers.
Jamie Heale / IT Assistant, Studio Engineer | email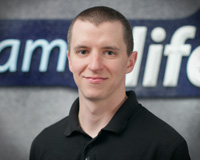 Jamie works in the IT and engineering at Family Life. His job duties cover fixing and maintaining equipment to replacing and purchasing new equipment. Jamie is also sound engineer for some of Family Life's productions. He enjoys the diversity of his job and the ability to take on new challenges.

Jamie came to Family Life in 2008 from Dayton, OH. A native to WNY, he moved to the Dayton area for college and was then hired at Cox Radio, where he did many different jobs, ranging from Board Operator, to Traffic Assistant, and ending up as Assistant Engineer.

In early 2008, Jamie received an email from his sister about a job at Family Life. After much prayer and talking with his wife, Jamie accepted the position. He had been thinking about switching into ministry and the job at Family Life seemed to fit his skills and talents perfectly.

Jamie and his wife Amy live in Bath, NY with their sons, Bryan and Zachary. He enjoys hiking and being outdoors with his family. He also loves playing the string bass.
Jeremy Hill / Studio Engineer | email
Jeremy is a studio engineer on Family Life's 24/7 technical support team. His top priority is to keep the radio network running every day - no pressure Jeremy.
Jeremy had a desire to serve in ministry ever since high school. Being very active in his church and having a degree in Electronic Technologies, Jeremy decided to visit Family Life to find out more about radio. And he's been here ever since.
Jeremy's work at Family Life spans over several departments. He helps handle audio engineering for concerts, theater productions, radio remotes, and also developed software for radio needs, internet streams, podcasts, and other technical areas. Jeremy installed the satellite system critical for radio expansion as well. (He's a man of many technical talents!)
Jeremy and his wife, Jenn, live in Bath, NY, with their daughter, Rose and son, Nathan. Their interests include evening walks, riding their tandem bike, remodeling their home, watching movies, learning about natural health, and spending time with family. Jenn is a stay-at-home mom and plays a major part in Jeremy's work in ministry.
John Coulter / Chief Radio Engineer | email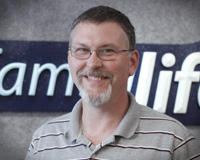 John always has been interested in electronics, more specifically in wireless communications. In sixth grade he built an AM transmitter for a science fair project and earned second place because the judges didn't think a 12-year-old could make a device like that!
In high school, John worked as a camp counselor and has since been active in his local church, serving as trustee, deacon, choir member, and Sunday school teacher.
After high school and one year of Bible College, John attended Erie Institute of Technology and received a Certificate in Electronic Communications. Since then he's worked in the radio and cell phone industries as a field technician/engineer. John also is a licensed master electrician and has a radio telephone license from the FCC.
His hobbies include an avid interest in ham radio and alternative energy, specifically wind generators. John owns the third highest point in Chautauqua County and harnessing the wind up there isn't difficult in the least - it's almost always blowing! John is married to his wonderful wife, Arlene. They live in Gerry, N.Y., and enjoy raising farm animals and tending the garden.
Ralph VanDerLinden / Assistant Radio Engineer | email
Ralph is a transmitter engineer for Family Life. He works in remote places and, just like Jim Travis, is sometimes responsible for bringing broken radio stations back on the air. Ralph is the son of a Baptist minister and was raised across New York State, mostly in the Central New York region. The youngest of three boys, he accepted Christ in his pre-teen days and has volunteered at church since he was a teenager.

Ralph got involved in radio station repair and maintenance while in college. He gave up his original plan of becoming a teacher, and instead made a career of fixing technology when it doesn't work right. He joined Family Life in 1997 as the network started growing from 8 stations with just a handful of translators. He and his wife Sue live in Hornell.
Joe Prunier / Maintenance & Grounds Supervisor | email
Meet Joe -- our knowledgeable building and grounds supervisor at Family Life. Joe has a heart for serving others and enthusiastically lives by the motto, "A job worth doing is worth doing well!" Joe comes to Family Life after working maintenance for Christ the Redeemer, a church in Elmira, for over ten years.
Joe grew up knowing about the Lord, but didn't accept Jesus Christ as his personal savior until later on in life. After being introduced to Family Life, Joe regularly started listening to the network. One day, a David Jeremiah broadcast spoke powerfully into Joe's life, and from then on, he began growing into a deeper relationship with the Lord. Joe's life dramatically changed after that day, and now his heart is set on following God wherever He leads, which happened to be to Family Life.
After praying for over a year about new employment, the Lord made a way for Joe, and his wife, to join the ministry. Joe has a special affinity for the network - praise God for his salvation in Christ! - and is humbled that he was chosen for the job. We are likewise blessed to have Joe and Cindy here - an incredible husband and wife team!
An active member of his church, Joe is on The Impact Team and enjoys running sound each Sunday. Joe and his wife, Cindy, live in Elmira with two of his three children, Joey and Hannah. His married son, Brian, lives in Illinois.
Hank Windows / Maintenance Assistant | email
Hank does building and vehicle maintenance for Family Life. He also maintains the electric systems, plumbing systems, and keeps the grounds in order, especially during softball and soccer seasons. Hank is one of those guys who will lend a hand wherever it's needed - no matter the job.
Hank was born and raised in Addison, NY. He completed his student teaching degree at SUNY Oswego and worked as an ASE certified auto body technician for 32 years after that. Hank also has 25 years of military experience, working as a chief mechanic for the US Naval Reserve. After 6 months of active duty in Puerto Rico, Hank came home to visit friends and family, and learned about a job opening at Family Life. Twelve years later, Hank is still here, and can be seen riding his lawn mower behind Family Life on summer afternoons.
Big into martial arts, Hank teaches judo at the YMCA and is a certified black belt. He's also been a foster parent for many years, believing every kid should have a chance to live in a Christian home. He and his wife, Sue, have seven children, three of which are adopted.